Actress Tiffany Haddish admits she bought herself a wedding dress despite no plans to tie the knot anytime soon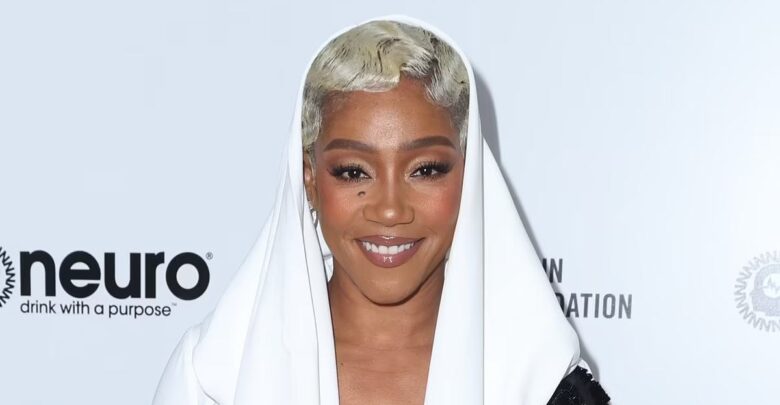 Tiffany Haddish has revealed she bought herself a wedding dress despite not having immediate plans to walk down the aisle.
The 43-year-old comedienne admitted that she couldn't resist purchasing the elaborate gown while chatting with People on Saturday at The Grove in Los Angeles.
The Girls Trip star, who partied earlier this month with Cameron Diaz and Zoe Saldaña at one of Taylor Swift's Eras Tour stops in LA, said she's planning to dye the wedding dress a new shade of blue so as to wear it while aboard a yacht.
'It was beautiful and it looked like something I could wear on a yacht or whatever. I'm dyeing it this beautiful blue color — it's almost like a purplish blue — and it is going to be amazing,' she gushed.
Then she corrected herself: 'Well, I'm not dyeing it. I paid somebody else to do it for me, actually, but I know it's going to be amazing.'
Haddish went on to add that she doesn't understand why women spend 'so much money' on wedding dresses as she claimed that Chinese shopping apps can make custom ones at a fraction.
Earlier this year, Tiffany explained to the outlet that she was 'dating herself' and was keeping her options open when it comes to looking for love.
'I'm dating me! I'm enjoying my options, but I'm not bringing none of them to no carpets. They haven't earned that privilege,' she gushed.
Tiffany's ex-boyfriend was rapper-turned-actor Common.
After their November 2021 breakup, he went on to claim that it was a 'mutual' split during an appearance in December of that year on Hollywood Unlocked With Jason Lee Uncensored.
'[We] came to the understanding that this is what's gonna be best for us,' he said in December 2021, describing the breakup as a 'mutual decision,' but Haddish now disputes that rosy characterization of the breakup.