Former BFFs, Kylie Jenner and Jordyn Woods reunite as they enjoy dinner together four years after Tristan Thompson cheating scandal ruined their friendship (photos)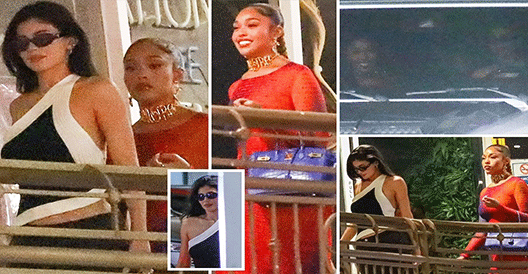 Former BFFs, Kylie Jenner and Jordyn Woods have reunited four years after NBA star Tristan Thompson's cheating scandal ruined their friendship.
In new images, the lip kit mogul, 25, and the social media model, 25, were pictured having dinner together on Saturday night in Los Angeles.
The former best friends, who appeared in great spirits, arrived and left together after visiting the sushi restaurant for dinner.
Back in 2019, Jordyn and Khloe Kardashian's then-baby daddy Tristan hooked up at a party. Woods later admitted to sharing a kiss with Tristan during a sensational interview with Jada Pinkett Smith on the Red Table Talk, an affair that ruined her friendship with Kylie Jenner and left the Kardashians fuming.
The kiss also led to Khloe splitting up with Tristan.
'I was drunk. I was not tipsy, I was drunk. But I was not beyond the point of recollection. I know where I was. But, on the way out [of Tristan's house] he did kiss me,' Jordyn recalled.
'No passion, no nothing. On the way out he just kissed me. It was a kiss on the lips. No tongue kiss, no making out. Nothing. I don't think he's wrong either, because I allowed myself to be in this position.'
'I didn't know how to feel. I was like, "That didn't just happen," because I was leaving already so I walked out immediately after.'
The star remembered getting, 'in the car and was like, "No, that didn't happen," I [told him] I need to go. I was in shock.'
After admitting to the kiss, Jordyn's friendship with Kylie quickly came to an end, and her close relationship with the Kardashian/Jenner family also ended. The incident also resulted in the Good American founder splitting from Thompson at that time. Khloe later got back with Tristan but the relationship didn't last due to more cheating by Thompson.
Khloe and Thompson however, share two kids together.