'I wanted it to be memorable' – Watch man fake his arrest for surprise marriage proposal (video)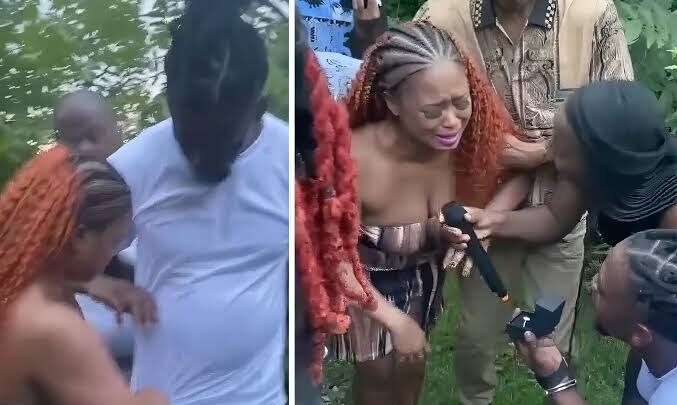 A man from Rock Hill, North Carolina, USA decided to host a birthday party for his girlfriend on July 15, and had planned to gift her more than cake and balloons.

Shane Archie says he wanted to think of a proposal outside "the box" for his partner, Quitta White.

"I didn't want to propose the traditional way, so I came up with a scheme like I was going to get arrested, but ended up surprising Quitta with the ring," he revealed.

Archie added, "I wanted it to be memorable, exciting and surprising all at the same time."
A video of the proposal shows Archie walking up to a backyard party with his hands handcuffed behind his back by a bigger man wearing what look like a gun and badge.
White immediately runs through the small crowd, visibly upset as she approaches her man and tries to stop the "officer" from shaking Archie around.

Another bulky man jumps into the scene and gets between Archie and White, who screams while held back by her friends.

As the situation escalates, the group finally allows White to approach Archie, who begins pulling things out of his pockets.
"I'm sorry I'm f – – king up your birthday," he told her to which she quickly replied, "No, you're not."

"But this will make it up to you. Will you marry me?'" Archie asks as he frees his hands and gets down on one knee with a ring in his hand.

The shocked bride-to-be immediately collapses to the ground as the party's attendees cheer the couple on.

White sits on the grass sobbing into her hands in shock for several seconds as Archie remains on one knee

Her friends finally lift her off the ground as she doubles over with sobs and coughs before finally yelling, "Yes!"

"I went through every single emotion there was before he proposed. When I saw him get on his knee to ask me to marry him, my legs gave out," White admitted. "My anxiety was through the roof."

The girlfriend-turned-fiancée wrote on Facebook: "He already knew his woman was going to jail right behind him! I went from 0 to 1000 and had about 20 different Cancer emotions all in one.
"One thing a Cancer gone be is a thug and crybaby at the same time!"
"Everyone in my family knows that I'm very dramatic when it comes to my kids and my man."
"This was the best birthday gift I could ever get … I will cherish this day for the rest of my life."
Watch the video Here