If i see you one on one, you'll see what I'll do to you – Actor Charles Okocha threatens Portable after the singer accused him out of 'ripping him off'; Portable responds (videos)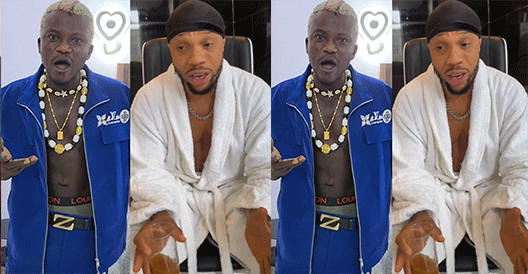 Nollywood actor Charles Okocha, has taken to Instagram to threaten Portable after the singer accused him of 'ripping him off' some money.
Portable claimed Okocha collected 40 million naira from some promoters for a show/endorsement in Abuja which he was invited for. He said Okocha paid him 5 million which he says is too small compared to how much Okocha got.
He asked Okocha to add more money, calling him a thief for giving him 5 million out of the 40 million.
Reacting to the accusation, Okocha said he was the one that got the deal and only invited Portable as his guest. He said he flew Portable in from Lagos to Abuja and after the promotion, gave him N5,000,000 as his cut.
He said they didn't sign any agreement so he gave Portable what he deemed fit, as he was the one in charge.  He then warned the singer to stop talking about him, threatening to give him a serious beating if they meet one on one.
watch video here