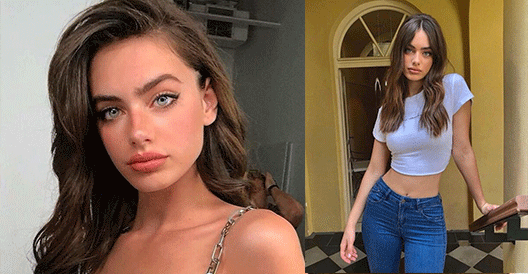 A 19-year-old model has been crowned the most beautiful woman on the planet after securing the top spot of an annual beauty contest.
Yael Shelbia has won the prestigious TC Candler "100 Most Beautiful Faces of the Year" gong after contesting for 4 years.
The Israeli teen, who is currently carrying out mandatory military service with the air force, told local media: "I've never come first at anything, it's very nice."
This is not the first time Shelbia has rated highly in the competition.
She has shot up the rankings in recent years, placing 14th in 2017, 3rd in 2018 and 2nd last year, before taking the top spot in 2020.
The up-and-coming actress is reportedly dating 35-year-old Brandon Korff, the grandson of billionaire honcho Sumner Redstone.
Shelbia has modelled for Israeli fashion company Renuar, KM earbuds and Kim Kardashian's KKW Beauty makeup line. She is also popular on Instagram with nearly 1 million followers.
She told her followers after winning the coveted title: "Thank you @tccandler and all the voters. I appreciate it with all my heart!!"