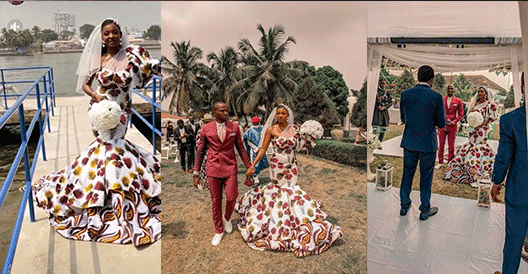 A Nigerian fashion designer, Chioma has got social media buzzing after she wore a lovely custom made Ankara dress to her white wedding.
Friends and former classmates shared photos of the bride and her groom at their wedding ceremony which took place on Saturday, January 30, in Lagos.
Reacting to the photos which have since gone viral online, the beautiful bride said that the wedding dress was made by her friend and colleague.
"Initially, I thought she would laugh at the idea of an Ankara wedding dress but she loved the idea and made sure I looked great" she said.
"I didn't bother to tell anyone about it. It wasnt even up for debate . I just told my friends not to wear ankara. I am sure if I had mentioned it to people, they would have tried to discourage me because human preferences are different." she added
See more photos below…