This Nigerian Man And His Thai Wife Arrested For Robbing And Shooting A Woman In Thailand(Photos)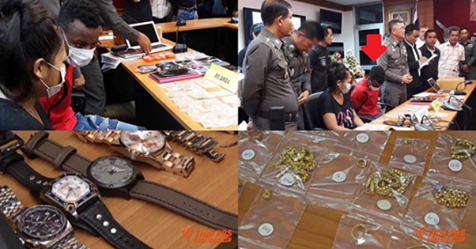 A Nigerian man and his Thai wife has been arrested by the huket police  for allegedly robbing and shooting a Russian woman in Muang Phuket district in Thailand. Both were also accused in other theft cases in the houses of foreigners.
The Nigerian man was identified as , and his Thai wife, Sasipha Nakonthaisong. They were apprehended by police on Thursday night (Aug 31) at home.
Both were charged for breaking into the rented house of Mrs Elena Kharenko, 51, on Wednesday night as she was sleeping. But she woke up and shouted for help, and was shot. .
Both escaped with her safe, while she was rushed to hospital for treatment. Police said the search of Chukwunweike's house produced lot of valuables believed to have been stolen, including gold necklaces, computer notebooks, a Louis Vuitton handbag and luxury watches. ?: Thaipbs