People On Social Media React After Pastor Tunde Bakare said, 'God told me to run for the Presidency'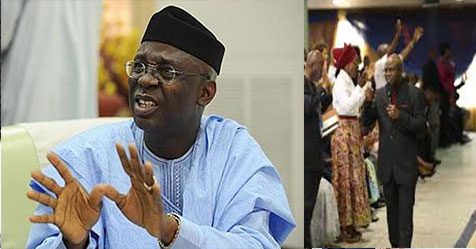 Many Nigerians woke up to the news of Tunde Bakare, the Senior pastor of Latter Rain Assembly, saying God has instructed him to run for president of the Federal Republic of Nigeria but he does not know when.
He made the declaration while delivering his New Year sermon to his congregation on January 1st 2018, the clergyman who ran as Vice Presidential candidate with President Buhari in the 2011 election, said God has instructed him to return to politics and run for president and lead the nation to prosperity.
I'm sure tunde bakare is jealous of osibanjo lol
That's why he's now saying God said he's going to be the president of Nigeria ?
Pastors wanna chop nation cake now oh it's for everybody now

— TIMI (@damn_it_timi) January 2, 2018
So Tunde Bakare claims God wants him to run for president again.. Another political telemundo is about to start early 2018 #TuesdayThoughts

— Immanuel ♊ (@ololadeimmanuel) January 2, 2018
This man called Tunde Bakare is just a scam! He's solely job is to distract Nigerians.

— Olofofo (@olofofo_1) January 2, 2018
Tunde Bakare said God wants him to run for presidency. Well I just remembered that God wants me to become the commissioner for happiness in 2019 pic.twitter.com/S0s5kzBuTQ

— Confused Citizen? (@Murphyjesse) January 2, 2018
God just told me not to vote for "Tunde Bakare" come 2019…

Since they can't stop using God's name to lie, we will feed them with the same piece of cake they made for us to eat …nonsense

— bill polorski (@halafbi) January 2, 2018
Pastor Tunde Bakare said God told him to run to be Nigeria's President in the same 2019 that Father Mbaka said God told him Dankwambo will be President.
How man "gods" are speaking to them? ?
Please let's stop dropping God's name & differentiate desire from vision.
— Dr. Obinna Ebirim (@ebirimobinna) January 2, 2018
Pastor Tunde Bakare has declared to run for the Nigerian Presidency in 2018.This is a sign that good things are coming.#Tundebakare

— ICCNG (@uyiebose) January 2, 2018
God has been brought in again as countdown to the 2018 general elections begin in Nigeria. Fiery Lagos pastor, Tunde Bakare has said that he has received God's directive to contest for 2019 presidential election.

— segun adio (@segunvc) January 2, 2018
Tunde Bakare said God asked him to run for presidency. Meaning that Buhari isn't delivering else we would have been praying for more grace. But Buhari has taken the grace of God for granted. Mbaka has pitched tent with Dankwanbo. All these are making things easier for Atiku.

— ThankGod Ukachukwu (@kcnaija) January 2, 2018
God has asked tunde bakare to run for president. God has told mbaka that Dankwambo will be president….but for me, God has asked me to leave this country. And i will. Tunde run, Dankwambo run, Buhari run, while I run away pic.twitter.com/PcpgOIi6e5

— Wizz (@Uc_Wiz) January 2, 2018