President Trump cut off by MSNBC, ABC, CBS, CNBC, NBC and other major television networks over 'false claim' about US election (video)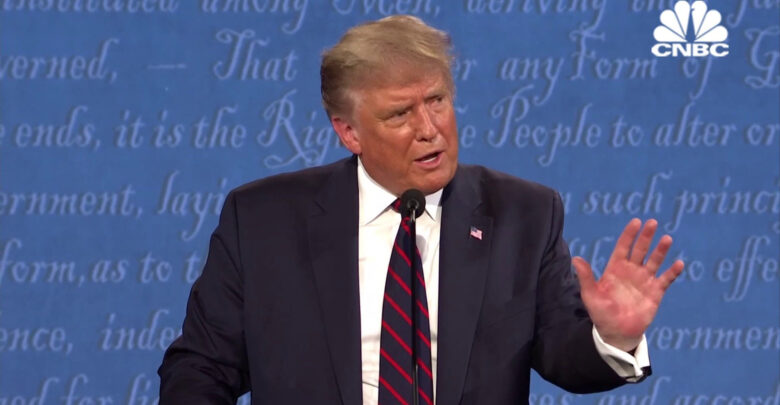 President Donald Trump's speech from the White House briefing room was on Thursday November 5, cut off by Cable networks, broadcast networks and Twitter for spreading "false claims" about the US election.
Trump began his remarks by claiming that Democrats were committing "fraud" and trying to "steal" the election. He opened his Thursday speech with referencing ballots counted after Tuesday November 3, which have moved challenger Joe Biden close to victory, as illegal.
MSNBC moved fastest, with anchor Brian Williams cutting in just 35 seconds into Trump's remarks to fact-check. The cable news network did not return to the president's comments in the White House pressroom.
On the broadcast side, all three networks carried Trump's speech, with it running during East Coast evening news broadcasts in much of the country, starting just after 6:45 EST. ABC cut away before CBS and NBC, with ABC News anchor David Muir breaking in to correct the record after the president alleged illegal votes were being counted and that opponents were attempting to steal the election.
Explaining the decision of cutting off the President later on an ABC News primetime election special, Munir said;
"(President Trump) knew exactly what he was doing, this large audience across the broadcast networks, in coming on in the middle of our newscasts tonight. We knew when we heard that – 'if you count legal votes, I easily win, if you count illegal votes, they could try to steal the election' – that it was time to pull out of that and fact-check it in real time.

"We're not witnessing anyone stealing anything tonight. This is democracy and we asked the American people to be patient."
NBC and CBS also eventually interrupted, with anchors and correspondents correcting the president's statements.
Explaining the reason for cutting off President Trump, MSNBC's Williams said;
"OK, here we are again in the unusual position of not only interrupting the president of the United States, but correcting the president of the United States. There are no illegal votes that we know of. There has been no Trump victory that we know of."
On CNBC, former Fox News anchor Shepard Smith explained he was taking an unprecedented step in cutting off the president because what he was saying "in large part, was absolutely untrue."
Smith told viewers;
"Never in my 30-year career have I ever interrupted a president of the United States. We've held back from doing so over and over and over while others have. But if any other human being were using our platform of influence to lie to our viewers, we would stop them. And frankly, enough's enough"

Click link below to watch video
https://www.instagram.com/p/CHPgqXqI8vc/