'She proposed to me, and I said yes instantly' – Rita Ora's husband, Taika Waititi reveals she was the one who proposed to him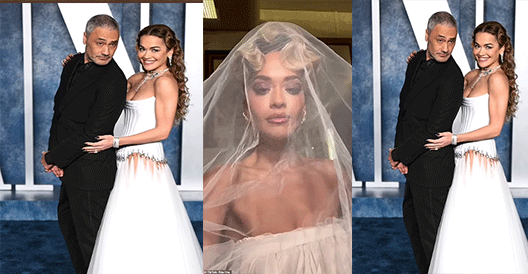 British singer and songwriter, Rita Ora's husband Taika Waititi has revealed she was the one who popped the big question to him as the couple marked their first wedding anniversary by sharing new details about their intimate wedding.
The couple tied the knot in an impromptu ceremony in 2022. They planned the wedding in just two weeks with eight people in attendance.
Vogue shared a gallery of images from the big day, with Rita revealing she wore three different looks by British designer Tom Ford, as she and Taika exchanged vows at their home in Los Angeles.
Rita popped the question during a trip to Palm Springs and they reportedly got married in London.
Taika revealed: 'She proposed to me, and I said "yes" instantly.'
Discussing the ceremony, the director added: 'There were about eight people there – just close friends and family, and parents on Zoom.'
For her big day, Rita donned a trip of looks from the British designer, saying: 'He's now one of my close friends, and I adore and admire him so much. To get married in his dress was a dream come true.
'And because it wasn't planned, I didn't know if the right dress was even going to be in town, and I just took the risk and went to the Tom Ford shop, and they had it perfectly waiting with the veil, in my size, no alterations needed to be done.'
For the ceremony, Rita slipped into a beautiful white lace one-shouldered gown, teamed with chunky platform heels.
The star then changed into a dramatic frilled white dress with a plunging front for the reception, before changing into an eye-catching flared co-ord and lace bralet.
Rita went onto reveal that she wore her mother's pearls with her wedding dress, while Taika wore a suit by Brunello Cucinelli.
Elena walked her sister down the aisle, while Taika was joined by his two daughters for the ceremony.
After being declared husband and wife, the newlyweds headed to their friend Guy Oseary's house for a celebratory dinner.
In January, Rita finally confirmed that she and Taika had tied the knot after months of speculation, describing the nuptials as 'perfect' and a 'special day'.
The hitmaker was speaking on Heart Radio Breakfast to promote her latest single You Only Love Me'.
Rita said: 'Yes [I am married]. I am officially off the market people. I chose to keep it more private and keep it to myself more but with my new video I am playing on what could have been'.
She continued: 'When the rumours came out is she, isn't she? I wanted to play on it. I wanted to do a wedding that didn't go to plan… that's not to say that is actually what happened.'
Gushing about the big day Rita said: 'It was perfect. It was exactly, exactly how I wanted'.
'It was nice and perfect. It is nice to keep some things just to myself sometimes it was nice and sweet… Sorry it's not that interesting. One day I will throw a big party.'
Rita and Taika began dating after being close friends for years, with the star telling Tatler last month: 'We became really good friends for about four years and then decided to f*** it all up and get married.
'I had never had a straight friendship with someone first before ending up with them. I honestly think it was the best way to get to know someone.'
She went on to confirm that she does recruit Taika to film her TikToks after eagle-eyed fans spotted when he is behind the camera.
Rita said: 'The fans comment, 'I bet Taika's filming that – good angle, Taika, good job,' 'He is the expert!'