Sultan Of Sokoto's eldest son in terrible car crash after reportedly 'getting high on Codeine'(Photos)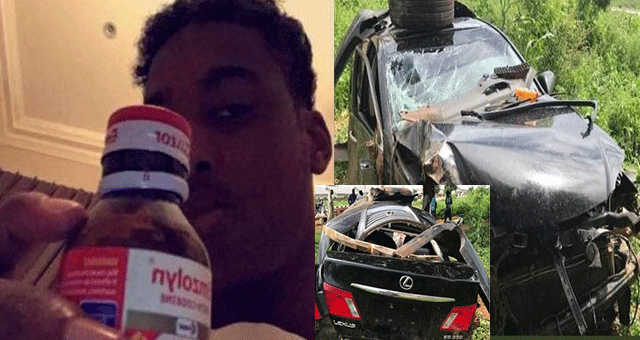 Amir, the eldest son of Usman Sa'ad Abubakar, the Sultan of Sokoto has been involved in an accident after he was reportedly driving at a very high speed around 12noon within Sokoto Airport Road, in an area called Bado.
According to a report by Sahara Reporters, Khalifa Maccido, son of Aliyu Macciddo, and another girl were with him in the car when the accident occured. Witnesses at the scene of the crash said Amir had been drunk while driving, and that a bottle of Benelyn Codeine syrup was found in the car.
While he was being taken to the hospital, officials of the Sultanate Council were reportedly seen removing the Sultanate council plate number from the car so as not to expose the Sultanate Council.  SaharaReporters contacted Faruku Ladan Ddaji, Secretary of the Sultanate, but he said he couldn't confirm as he was out of town.
Amir, believed to have been dismissed from a UK school due to his drunkenness, was seen earlier on Sunday leaving a guest house with the girl and his friend Khalifa. He was taken to the Usman Danfodio Teaching Hospital, where he has been unconscious.