Woman cut into 14 pieces after tinder date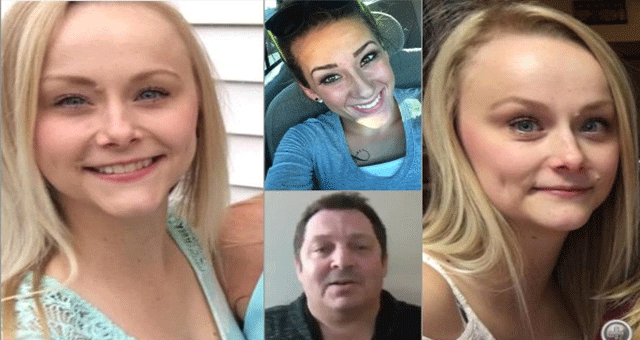 A 24-year-old Nebraska woman identified as Sydney Loofe, was found cut up into 14 pieces a month after she disappeared following the Tinder date.
The deceased's dismembered body was found in December 2017, stuffed into garbage bags and dumped in a field near Edgar, south-west of Omaha. Aubrey Trail, 52, and his girlfriend Bailey Boswell, 25, are both charged with first-degree murder in Loofe's death. It was gathered that Loofe met Boswell on Tinder app before going on a date on November 14, 2017 and planning a second one for the following night. The last time anyone heard from Loofe was on November 15 when she posted a picture of herself to Snapchat, captioning the image: 'Ready for my date'.
Testifying in court on Monday July 8, 2019, the pathologist who performed her autopsy, Dr. Michelle Elieff, said she received Loofe's body, which was cut into 14 different parts in different body bags on December 7, 2017. She said they knew the body was Loofe's initially because of her tattoos, but then confirmed that through dental records. Her task of determining a cause of death was difficult one, as several parts of Loofe's body were missing. Eventually, it was ruled homicidal actions, including strangulation.
"The bottom of the jaw and tissue inside was missing, her tongue, the upper part of her trachea and windpipe," Elieff said.
However Trail's attorneys maintained that Loofe's death was an accident, which happened during a sexual fantasy involving choking. In an interview with Trail that was played in the courtroom, he described "pulling" and "releasing" a cord around Loofe's neck during the fantasy, he said he must have held on for too long when Loofe died.
Trail who several women have testified against for always talking about killing and torturing his victims because he and his girlfriend, Boswell needed to strengthen their power, has not been in court since last month when he slashed his neck and fell from his wheelchair in the middle of a hearing. He was caught on camera yelling 'Bailey is innocent, and I curse you all' just seconds before swiping something across his neck.
The suspected murderer has had a stroke and two heart attacks since his arrest, and could face the death penalty if found guilty as the Judge has already ordered that he be handcuffed for the remainder of the trial. His girlfriend, Boswell whose trial doesn't begin until October, might also get the death penalty if she is found guilty.