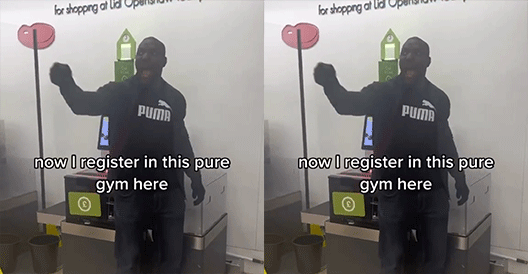 A Nigerian man was filmed expressing displeasure after he was banned from a gym in the UK.
The man is seen complaining to a Caucasian manager at Lidl that he has been banned from the gym.

The Nigerian man says to the Lidl manager, "You cannot break me, you know why? I have God. I serve a living God.

"You are just denying me my human right here. You're telling me you can't serve me for no reason. I've done nothing wrong."

It appears that's not the first gym to ban him because a woman with a Nigerian accent is heard saying to him, "So they banned you at Pure Gym as well?"

The woman added that there must be a reason for his ban.

She repeated, "They banned you at Pure Gym as well. That means there's a reason."

But the man told the woman to "go away" and continued complaining to the Caucasian manager.

"Why, why have they banned you," the woman asked him again.

The man explained that he pays 29 Pounds every month but one morning, the manager called to tell him he's no longer allowed in the gym.

Again, the woman asked why he was banned and the man flared up and told her, "Shut up. I'm talking to the manager."

"I'm interested, why did they ban you in Pure Gym," the woman said.

"I'm not talking to you. Is it your business?" the visible angry man responded.

Too frustrated to speak further, the man carried his bag and started to exit the gym.

Watch the video below.