Usher serenades Kim Kardashian during concert in Las Vegas (videos)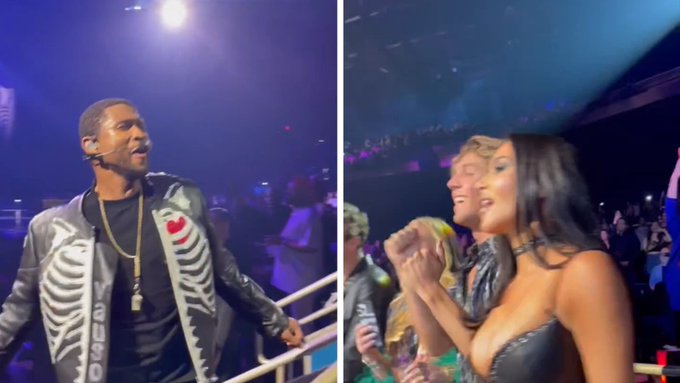 Months after having to cancel her planned trip to see star singer, Usher in concert, Reality TV star, Kim Kardashian attended his residency show in Las Vegas over the weekend and was serenaded by the Grammy award winning singer.
Kardashian, 42, was seated in a VIP section at the show with childhood BFF Allison Statter, hairstylist Chris Appleton and his rumored fiancé, Lukas Gage.

Usher, 44, quickly spotted Kim in the crowd and at one point came over to serenade her and her pals.
"C'mon, Kim," Usher said, encouraging Kardashian to dance.
Kardashian shared several highlights from the concert at Park MGM Hotel via her Instagram Stories throughout the night, including videos of her and her crew singing along to songs like "Confessions" and "My Boo."

Kardashian claims she missed Usher's "My Way" Vegas show due to high winds in Sin City last October. On Sunday April 23, she was pictured in a skintight black latex dress with thin spaghetti straps.

"Finally made it to see @usher but my girls are mad they aren't here soooo I just have to come back with them ASAP," she wrote.

Watch videos below